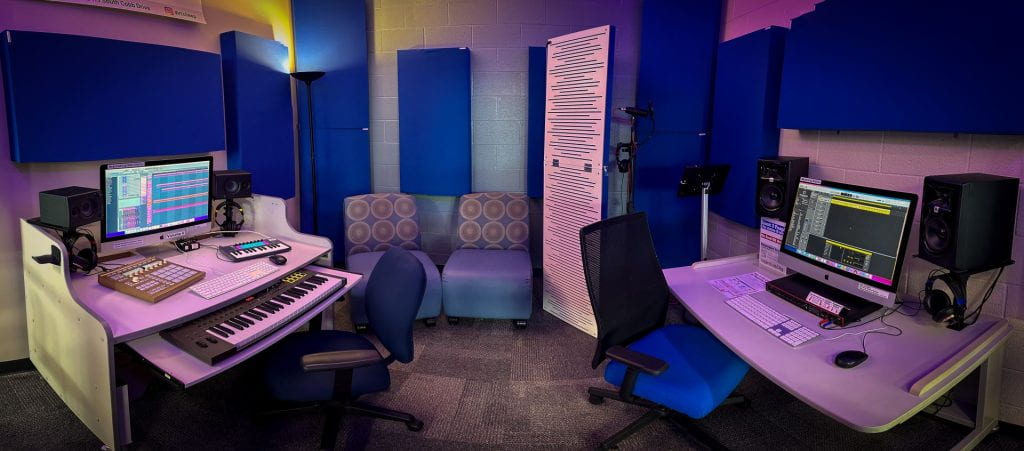 Audio Recording & Production Studio
Express yourself! The Campbell Learning Commons offers audio production and recording equipment for student use. Use professional equipment and software to make beats, record vocals, or lay down an instrument track! Make that podcast, or record voice-overs for that documentary—the choice is yours and the possibilities are endless.
Audio Recording Workstation
Audio-Technica BP40 Microphone
Scarlett 18i20 Recording Interface
Logic Pro Software
GarageBand Software
Nektar Impact LX49+ MIDI Keyboard / DAW Controller
Beatmaking & Composition Workstation
FL Studio Signature Edition Software
FL Key Mini Interface
Native Instruments Maschine MK2 Interface
Native Instruments Software and Sample Libraries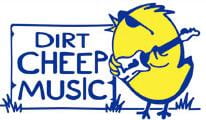 Special thanks to our partner-in-education, Dirt Cheep Music
for their generous donations of equipment and expertise!
Reserving Studio Time
Choose a time slot and a workstation.
Enter the names of any other students who will be in your session or type "none."
Use your @campbellhigh.net email address to complete the reservation.
Note: Times are available 14 days in advance. Each student is limited to 6 time slot reservations. To use the equipment during class time, students must have a pass from their scheduled teacher.
Why a Recording Studio?
Many of our students are interested in music and entertainment, but they lack access to the equipment needed to learn these skills. With provide students with the space and equipment needed to record vocal and instrumental performances, to compose and record beats and electronic music, and to combine their recordings into polished final products. Examples of these products might include:
Music demo recordings for distribution to professional agents and producers
"Mix-tape" collections of their compositions for distribution to family and friends
Recordings of audition solos for performing arts college admissions or scholarships
High-quality podcasts with music, sound effects, etc.
Voice-over tracks for documentaries, animations, or instructional videos
Recordings of speech in a foreign language for evaluation or instruction
These experiences give students the opportunity to express themselves and exercise their creativity, but they also provide a number of curricular tie-ins, including:
Science (acoustics, resonance)
Technology (specialized audio software and hardware)
Engineering (analog signal capture, digital signal processing)
Arts (music, language arts)
Mathematics (harmonics, logarithmic measures of signal strength, time signatures)
Also, students learn valuable soft skills, including collaboration and organization.
---
Here's a short video about our first day using the new equipment: